Vortex's Venom red dot offers fast target acquisition and immediate shot transition, thanks to its low profile and large viewing window. The aluminum structure is resistant despite offering minimal visual obstruction.
Features
Mount Type: Weaver / Picatinny (20mm)
Magnification: 1x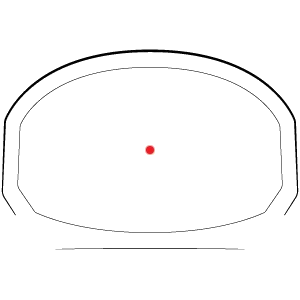 Dot Color: Bright Red
Dot size: 3 MOA
Eye relief: infinite
Adjustment sensitivity: 1 MOA
Maximum elevation adjustment: 130 MOA
Maximum drift adjustment: 100 MOA
Battery life: up to 150 hours at high intensity / up to 30000 hours at low intensity
Length: 4.83 cm (1.9 inches)
Weight: 31 g (1.1 oz)

Optical characteristics
- Multi-Coating: Increases light transmission with multiple anti-reflective coatings on all air-exposed lens surfaces.
- Premium Wide-Field Lenses:
Exceptional end-to-end resolution
- Brightness selector:
choice between 10 brightness levels with manual setting or automatic setting
- Unlimited eye distance:
immediate aiming with the eye at any distance from the red-dot
- Absence of parallax:
target always centered at any viewing angle, since the visual deviation of the parallax on the red point is so small as to be negligible in the aiming phase
Construction features
-
Tube machined from a single piece
: maximizes alignment and waterproofing
- Waterproof
: the sealing gaskets prevent moisture and dust from penetrating inside the object
- Impact Resistant:
Rugged construction resists impact and kickback
- Anodized finish: Anodizing
process of the external surface to reduce the reflection of the metal
- ArmorTek ®:
An ultra strong coating, which protects the external lenses from scratches, oil and dirt
Reticle
- 3 MOA Dot:
The bright spot is easy to see in any light condition and on any background. References for undervoltages in the table below.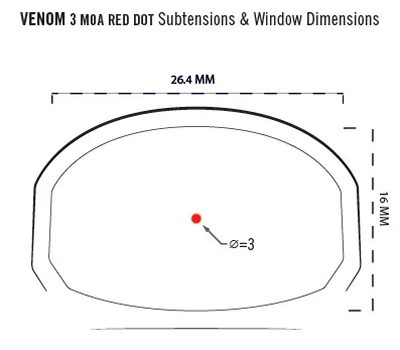 Accessories included
Weaver / Picatinny attachment
Torx T-15 key
Rain cover
Lens cleaning cloth
Attachment mounting screws
Screwdriver
CR1632 battery

Vortex VIP Warranty - Unconditional Lifetime Warranty
Vortex offers its special unlimited and unconditional guarantee on this product: no matter what the cause of the damage was, the product will be repaired or replaced at no cost apart from any shipping or transport costs.
No comments entered for: