The Vortex AMG UH-1 Gen II red dot is a viewfinder with a wide viewing window, quickly accessible to the eye, for the best possible performance in CQB situations. Its elegant, linear and compact line, as well as being aesthetically appealing, allows for great handling of the weapon.
The EBR-CQB (Enhance Battle Reticle / Close Quarter Battle) reticle has a specific design for short range aiming, and the FHQ (Fusion Hologram Quantum) technology eliminates any external light emission and any glare and reflection, to be perfectly invisible in every situation.
It can also be used with night vision systems, with 4 specific intensities and a dedicated button for activating the Night Vision mode.
Features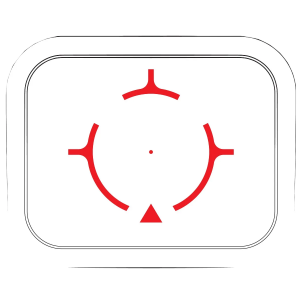 Dot Color: Bright Red
Dot size: 1 MOA
Eye relief: infinite
Brightness adjustment: 15 levels
Adjustment sensitivity: 1/2 MOA
Maximum elevation adjustment: 100 MOA
Maximum drift adjustment: 100 MOA
Length: 9.90 cm (3.9 inches)
Weight: 329g (11.6oz)

Dimensions measured in millimeters
Optical characteristics
-
XR ™
Multi-Coating
:
Increases light transmission with multiple anti-reflective coatings on all air-exposed lens surfaces.
- Central Dot with daylight brightness:
the high brightness of the dot allows easy aiming even in broad daylight
- Unlimited eye distance:
immediate aiming with the eye at any distance from the red-dot
- Night vision compatibility:
4 dedicated brightnesses for use with infrared vision devices
- Absence of parallax:
target always centered at any viewing angle, since the visual deviation of the parallax on the red point is so small as to be negligible when aiming
Construction features
-
IPX8 waterproof: the sealing gaskets prevent moisture and dust from penetrating inside the object
- Anti-fog : nitrogen filling prevents condensation from forming over a wide range of temperatures
- Impact Resistant: Rugged construction resists impact and kickback
- Anodized finish: Anodizing process of the external surface to decrease the reflection of the metal
- ArmorTek ®:
An ultra strong coating, which protects the external lenses from scratches, oil and dirt
- Integrated attachment:
Quickly mounts to any weaver / picatinny rail thanks to the integrated attachment
- Controls on the back: Easily accessible ignition and brightness adjustment
- FHQ ™ technology: Eliminates any external light emission so that you are totally invisible. It also cancels any glare on the reticle even in low light conditions.
Reticle
- EBR-CQB
reticle: versatile, clean and bright reticle, suitable for various shooting and engagement scenarios. Undervoltages in the table below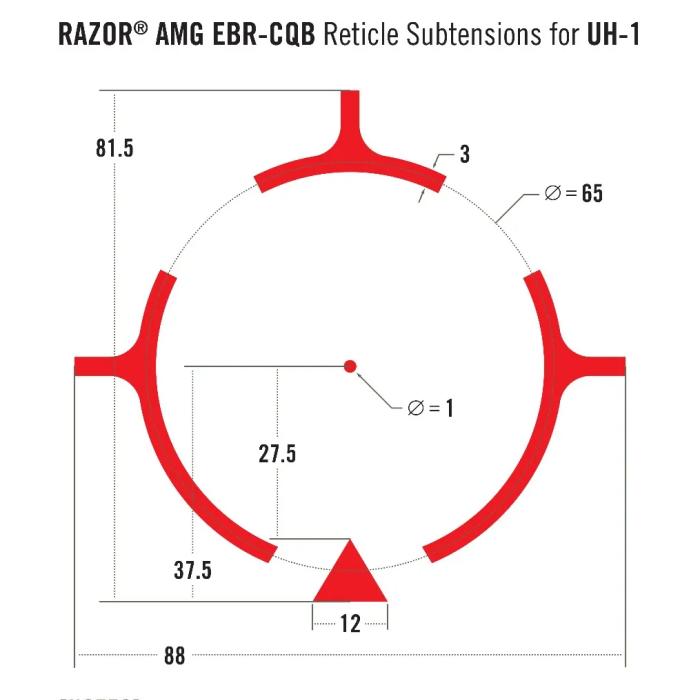 Accessories included
CR123A battery

Vortex VIP Warranty - Unconditional Lifetime Warranty
Vortex offers its special unlimited and unconditional guarantee on this product: no matter what the cause of the damage was, the product will be repaired or replaced at no cost apart from any shipping or transport costs.
No comments entered for: