The UC FENIX series satisfies the daily and professional needs. Convenient for transport thanks to their small size, they are equipped with great power and are able to recharge quickly via the practical integrated USB charging port.
The UC35 V2.0 FENIX flashlight is the update of the 2018 version improved from many points of view, here are a few: led with greater brightness, steel side switch with battery level indicator, more compact design, battery with longer life.
With its 1000 lumens the light beam reaches a distance of about 260 meters, you can turn the flashlight on and off with its metal tactical side switch that has an integrated battery level indicator. Powered by a 18650 rechargeable Li-ion battery it is also compatible with two CR123A batteries. Compact and robust, it is IP68 rated; dustproof and waterproof up to two meters underwater. These features make it perfect for military and police forces, but also for hiking, sports and outdoor activities.
Features :
Length: 14cm
Body: 2.3cm
Head: 2,5cm
Weight (without batteries): 89g
Protection level: IP68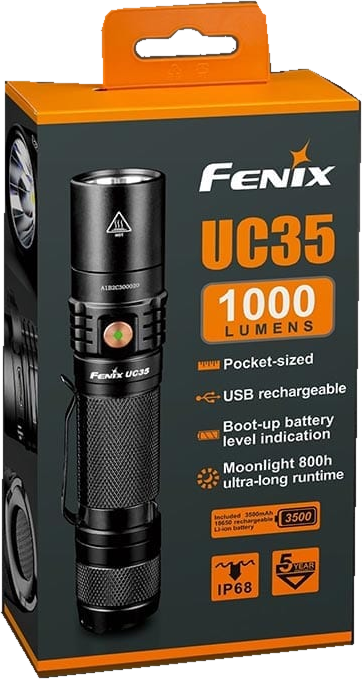 Supplied :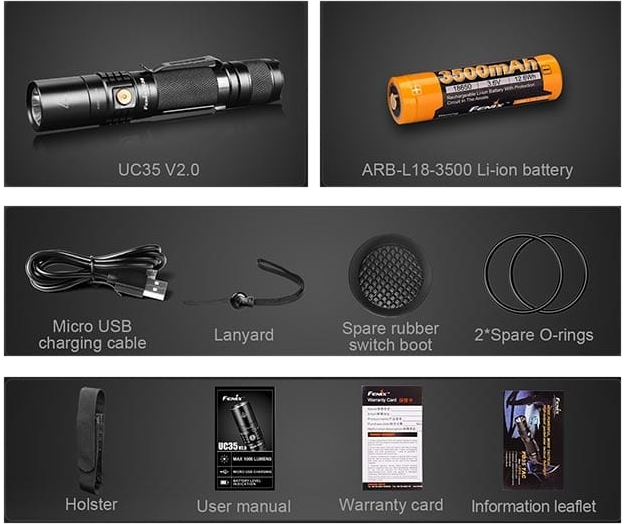 No comments entered for: