An evolution of the NV007A model, the Pard NV007S is a night vision accessory that allows you to quickly and easily transform your daytime scope into a state-of-the-art, high-tech night vision sighting system ideal for hunting.
Without removing the optics already mounted on the weapon, the Pard NV007S must be applied to the rear part of the scope so as to immediately convert it into night vision.
An improved resolution for clear observation, allows viewing in full HD and recording photos and videos on a micro SD card.
Smaller than the previous model, for the best possible fit on all optics. Simplified display that allows fast and immediate use.
- Size: 102 x 75 x 118mm
- Weight: 256 g
- Magnification: 1.5-6x
- 1024x768 px screen
- Full HD sensor (1080p)
- 16 mm objective lens
- Focusable IR emitter: 5 watts, 850 nm or 940 nm
- Maximum distance of use: 200 m
- Power supply: 18650 battery (1x), 3.7V
- External power supply via USB
- Possible photo and video recordings, resolution 2595x1944 (photo) / 1920x1080 (video)
- Micro SD card (not included)
- Selectable brightness and exposure settings
- WIFI
- 45mm mounting adapter with reduction sleeves
- IP-67 waterproof
- Operating temperature: -20 - +55 ° C
Supplied: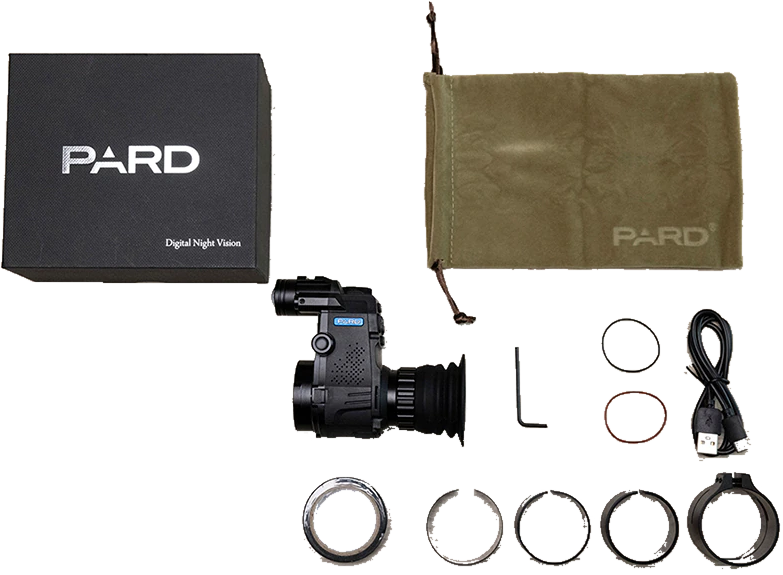 No comments entered for:
Similar Products
Black Friday offer from 25 to 27
€ 980,52