The
Hikmicro
Thunder Pro
optics are advanced aiming systems for thermal vision with very high image quality, easy and immediate to use.
Thanks to the detection up to 1000 meters, the high definition OLED display, the high impact resistance and IP67 waterproofness allow use in any situation.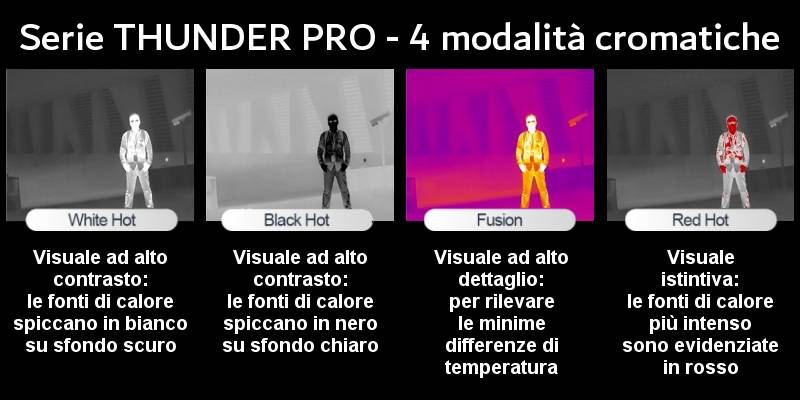 TYPE OF OPTIONABLE RETICLES:
Possibility of choosing between 4 types of reticle with 3 different adjustments.


RESET:
The telescope is reset by marking the offset on the reticle after firing the first shot. Possibility of 5 zeroing profiles configurable for different distances.


HIGH IMPACT RESISTANCE:
The metal slide and its robust components provide high impact resistance up to 750g / ms, usable with any caliber.


Features

Sensor: 256x192, 12?m
NETD (thermal sensitivity): less than 35mK (25 ° C, F # = 1.0)
Lens: 19mm
Magnification: 2.47x
Field of view: 9.24 ° x6.94 °
Detection distance: 1000m
Frame rate: 50hz
Digital zoom: 1x, 2x, 4x, 8x
Eye relief distance: 45mm
Monitor: 0.39 inch OLED, 1024x768 resolution
Battery: 2x CR123 included
Operating duration: 4.5 h
Weight: 430 g
Water resistance: IP67
Operating temperature: from -20 ° C to + 55 ° C
Backlash resistance: 750g / 1ms
No comments entered for: