Vortex's Viper PST series achieves top performance in brightness, functionality and ease of use. The 5-25x50 allows a precision use with a 5 times magnification multiplier, instead of the classic 4 of the more common 6-24. The reticle offers all the references without being too invasive to the global vision of the objective. It is engraved on the first focal plane to keep the references at any magnification.
The 10 intensities of the reticle brightness offer the right amount of light for each situation, and the turret with the OFF position between each intensity allows the shooter to immediately turn on the reticle to the desired intensity.
With side focus adjustment, the scope is fully adjustable without taking the view away from the target, providing the best possible shooting experience.
Features
Magnification: 5-25x
Lens diameter: 50mm
Eye relief: 8.63 cm (3.4 inches)
Linear Field of View: 8.03 / 1.46m at 100 meters distance (24.1 / 4.8 feet / 100 yards)
Diameter of the tube: 30 mm
Turrets: Tactics
Adjustment sensitivity: 1/4 MOA
Stroke per full rotation: 25 MOA
Maximum elevation adjustment: 70 MOA
Maximum drift adjustment: 35 MOA
Parallax Adjustment: 22.8m (25yds) to infinity
Length: 40.11 cm (15.79 inches)
Weight: 884 g (31.2 oz)
Specific measures
Lengths (L)
L1: 40.11cm
L2: 6.02cm
L3: 6.55cm
L4: 16.74cm
L5: 14.22cm
L6: 9.12cm
Heights (H)
H1: 5.84 cm
H2: 4.60 cm
Optical characteristics
-
XD
™
Lens
Elements: Extra-Low Dispersion (XD) technology, with extra-low dispersion of the glass, increases resolution and color fidelity for crisp, clear images.
-
XR ™
Multi-Coating
:
Increases light transmission with multiple anti-reflective coatings on all air-exposed lens surfaces.
- Reticle on the first focal plane (FFP):
The reticle adapts to the zoom while maintaining exact references at any magnification
- Engraved
reticle: Engraved reticle protected by two additional layers of glass for maximum reliability and durability
- Illuminated reticle: reticle illumination for precision aiming in low light conditions
Construction features
- 30mm tube
: the 30mm diameter allows for wider adjustments of the mechanics and better resistance
- Single piece tube
: Maximized alignment for better accuracy and vision. Improved waterproofing and resistance.
- Aviation Aluminum:
Made from a single block of aluminum with phenomenal strength and stiffness properties
- Waterproof
: the sealing gaskets prevent moisture and dust from penetrating inside the object
- Anti-fog
: nitrogen filling prevents condensation from forming over a wide range of temperatures
- Impact Resistant:
Rugged construction resists impact and kickback
- Anodized finish: Anodizing
process of the external surface to reduce the reflection of the metal
- ArmorTek ®:
An ultra strong coating, which protects the external lenses from scratches, oil and dirt
- Exposed tactical turrets:
Provide quick, precise and easy to read adjustments in windage and rise
Mechanical characteristics
- RZR ™ Zero Stop:
The "Rapid Zero Return" (RZR) system allows you to set and lock a zero adjustment point, with a very high resistance to dust, water and dirt thanks to its robust construction.
- Precision elevation system:
high quality components in the spring elevation compartments allow simple and repeated use over time
- Precision sliding system:
this technology allows a smooth and linear use of the zoom and focus adjustment rings
Features of practicality
- Radius bar:
The rotation indicator of the fiber optic turrets provides a highly visible reference
- Eyepiece with focus adjustment:
allows quick adjustment of the reticle focus
Reticle
- EBR-7C MOA:
Reticle with references for distance, holdover and drift. References for undervoltages in the table below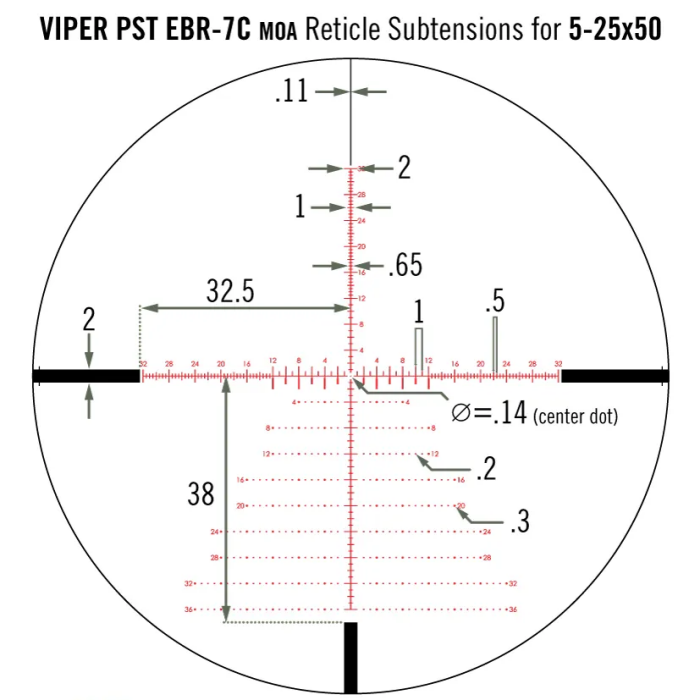 Accessories included
CR2032 battery
Lens cleaning cloth
3-inch anti-reflective tube that can be screwed onto the front bell
2mm Hex wrench

Vortex VIP Warranty - Unconditional Lifetime Warranty
Vortex offers its special unlimited and unconditional guarantee on this product: no matter what the cause of the damage was, the product will be repaired or replaced at no cost apart from any shipping or transport costs.
No comments entered for: