The Vortex Strike Eagle line has been designed to quickly adapt to any type of situation, always guaranteeing the highest quality, even on long distance shots.
The 5-25x56 EBR-7 MRAD, thanks to its particular construction with 34mm tube, allows a wide range of adjustments, offers extreme brightness and without distortion. The illuminated reticle on the first focal plane allows the shooter to maintain references at any magnification, and for use in all lighting conditions. Finally, the turrets with the technological RevStop Zero System allow quick, reliable and intuitive adjustment.
For quick access to zoom adjustment, a lever is included in the package to install on the dial.
Features
Magnification: 5-25x
Lens diameter: 56mm
Eye relief: 9.40 cm (3.7 inches)
Linear Field of View: 60.96 / 1.73m at 100 meters distance (24 / 5.2 feet / 100 yards)
Diameter of the tube: 34 mm
Turrets: Blocking Tactics (Zero Stop Technology on the elevation turret)
Adjustment sensitivity: .1 MRAD
Stroke for each complete rotation: 10 MRAD
Maximum elevation adjustment: 31 MRAD
Maximum drift adjustment: 23 MRAD
Parallax Adjustment: 13.7m (15yds) to infinity
Length: 37.08 cm (14.6 inches)
Weight: 862 g (30.4 oz)
Specific measures
Lengths (L)
L1: 37.08cm
L2: 5.08 cm
L3: 6.60 cm
L4: 16,26 cm
L5: 12,07 cm
L6: 9.14cm
Heights (H)
H1: 6.35 cm
H2: 4.57 cm
Optical characteristics - XD ™ Lens

Elements: Extra-Low Dispersion (XD) technology, with extra-low dispersion of the glass, increases resolution and color fidelity for crisp, clear images.

- Multi-Coating : Increases light transmission with multiple anti-reflective coatings on all air-exposed lens surfaces. - Reticle on the first focal plane (FFP):

The reticle scale remains proportional to the magnification of the image.

- Engraved

reticle: Engraved reticle protected by two additional layers of glass for maximum reliability and durability

- Illuminated

reticle: Illuminated reticle for optimal aiming even in poor light conditions

Construction features - ArmorTek ®:

An ultra strong coating, which protects the external lenses from scratches, oil and dirt

- Impact Resistant:

Rugged construction resists impact and kickback

- Waterproof

: the sealing gaskets prevent moisture and dust from penetrating inside the object

- Anti-fog

: nitrogen filling prevents condensation from forming over a wide range of temperatures

- 34mm tube

: the 34mm diameter allows the widest possible adjustments of the mechanics and maximum resistance

- Side

parallax: Parallax and focus adjustment in the left turret for easy and immediate use from the shooting position

- Aviation Aluminum:

Crafted from a single block of aluminum with phenomenal strength and stiffness properties

- Anodized finish: Anodizing

process of the external surface to reduce the reflection of the metal

- Locking tactical turrets:

Provide quick, precise and easy to read adjustments in windage and rise, with an integrated locking system to prevent accidental movement

Features of practicality - Eyepiece with focus adjustment:

allows quick adjustment of the reticle focus

- Quick zoom lever: can be

installed on the zoom adjustment ring, allows quick and accurate adjustment even in the shooting position

-

RevStop ™ Zero System

:

patented Vortex system for a quick return to the starting setting with physical blocking of the rotation of the turret at the set point.

Reticle

- EBR-7C MRAD:

The EBR reticle allows an evaluation of depth, drift and holdover distances based on MRADs. References for undervoltages in the table below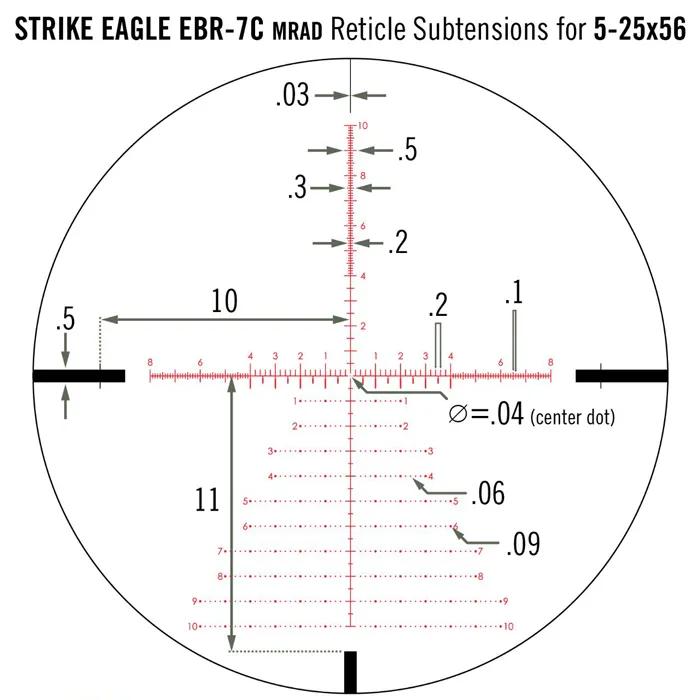 Accessories included
Lens covers
Lens cleaning cloth
4-inch anti-reflective tube that can be screwed onto the front bell
CR2032 battery
Tool for turrets
2mm Hex key
Zoom lever

Vortex VIP Warranty - Unconditional Lifetime Warranty
Vortex offers its special unlimited and unconditional guarantee on this product: no matter what the cause of the damage was, the product will be repaired or replaced at no cost apart from any shipping or transport costs.
No comments entered for: