The Vortex Impact 1000 rangefinder is an accurate and simple instrument, capable of providing accurate distance measurement up to 1000 yards (approximately 910 meters). The HCD function compensates for the site angle, providing additional data for shooting or hunting sessions.
Features
Detection distance of reflective surfaces: 5-914m (5-1000 yards)
Detection distance of large opaque surfaces (tree): 5-731m (5-800 yards)
Detection distance of small opaque surfaces (animal): 5-457m (5-500 yards)
Accuracy: +/- 3 meters over 1000 yards (+/- 3 feet over 1000 yards)
Maximum reading angle: +/- 60 degrees
Magnification: 6x
Lens diameter: 20mm
Linear Field of View: 114m to 1km distance (341 feet / 1000 yards)
Angular field of view: 6.5 degrees
Eye relief: 15 mm
Operating temperature: -10/55 ° C (14/131 ° F)
Length: 9.65 cm (3.8 inches)
Width: 3.55 cm (1.4 inches)
Weight: 156 g (5.5 oz)
Construction features
- Waterproof
: the sealing gaskets prevent moisture and dust from penetrating inside the object
- Diopter adjustment:
eyepiece ring for diopter adjustment
- Impact Resistant:
Rugged construction resists impact and kickback
Characteristics of the rangefinder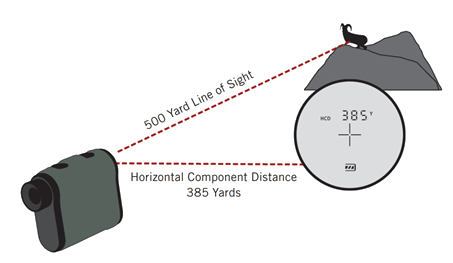 - Intuitive display:
simple and clear menu
- HCD (Horizontal Component Distance):
angle compensation mode
- LOS (Line Of Sights):
direct line of sight measurement mode
- Scan:
continuous distance reading mode while moving the direction of the binoculars
- Measurement unit format:
yards or meters selectable
Accessories included
Lens cleaning cloth
Shoulder strap for carrying
Soft case
CR2 battery
Cardboard with ballistic drop table in MOA and MRAD

Vortex VIP Warranty - Unconditional Lifetime Warranty
Vortex offers its special unlimited and unconditional guarantee on this product: no matter what the cause of the damage was, the product will be repaired or replaced at no cost apart from any shipping or transport costs.
No comments entered for: