The Crossfire 2-7x32 Crossbow Kit by Vortex is the specific optics for crossbows that combines the very high visual quality of the American house with high-level technologies specific for the ballistics of darts.
Very bright, without distortion and with a red / green illuminated reticle, it offers optimal visibility even in poor light conditions.
The special XBR reticle allows for quick and instinctive aiming, with the references for the different distances easily readable. The dart exit speeds for which the references on the reticle are real are marked on the magnification ring. Thanks to these two characteristics, it will no longer be necessary to test shots at various distances for the correct reading of the reticle.
The package also includes weaver shoe mounts, lens cover flip-up caps and a soft neoprene cover to protect the optics from dust while keeping it mounted on the crossbow.
Features
Magnification: 2-7x
Lens diameter: 32mm
Eye relief: 6.85 cm (2.7 inches)
Linear Field of View: 17.52 / 5m at 100 meters distance (57.5 / 16.4 feet / 100 yards)
Diameter of the tube: 30 mm
Turrets: Low covered
Adjustment sensitivity: 1/2 MOA
Stroke per full rotation: 30 MOA
Maximum elevation adjustment: 160 MOA
Maximum drift adjustment: 160 MOA
Parallax Adjustment: Fixed at 68.6m (75yds) at infinity
Length: 24.13 cm (9.5 inches)
Weight: 397 g (14 oz)
Specific measures
Lengths (L)
L1: 24.13cm
L2: 4,32 cm
L3: 3.81 cm
L4: 11,43

cm

Heights (H)
H1: 3.81 cm
H2: 3.81 cm
Optical characteristics
-
Two-tone illuminated reticle:
Progressive illumination in both red and green for precision aiming in low light conditions
-
Multi-Coating:
Increases light transmission with multiple anti-reflective coatings on all air-exposed lens surfaces.
- Reticle on the second focal plane:
The reticle scale always remains at the same magnitude, the references are accurate at maximum magnification, at lower magnifications the references are used as an estimate. At maximum magnification the reticle remains thin and does not cover the target for a great shooting experience
- Engraved
reticle: Engraved reticle protected by two additional layers of glass for maximum reliability and durability
Construction features
- 30mm tube
: the 30mm diameter allows wider adjustments of the mechanics and better resistance
- Waterproof
: the sealing gaskets prevent moisture and dust from entering the object
- Anti-fog
: nitrogen filling prevents condensation from forming over a wide range of temperatures
- Shock Resistant:
Rugged construction resists impact and kickback
- Anodized finish: Anodizing
process of the external surface to decrease the reflection of the metal
Features of practicality
- Eyepiece with focus adjustment:
allows quick adjustment of the reticle focus
-

Zoom adjustment with FPS indicators

:
adjustment with indications of both magnification and FPS. Useful for choosing the correct magnification, depending on the FPS of the crossbow, to have accurate reticle undervoltages.
- Zoom knurled ring:
a quick and solid grip allows a fast and safe zoom adjustment
Reticle
- XBR-2 MOA:
The XBR reticle is created specifically for crossbow shooting, with the center set at 40 yards (approx.36.5 meters) and references from 20 to 100 yards (18.3 to 91.4 meters) about meters). Red and green lighting. References for undervoltages in the table below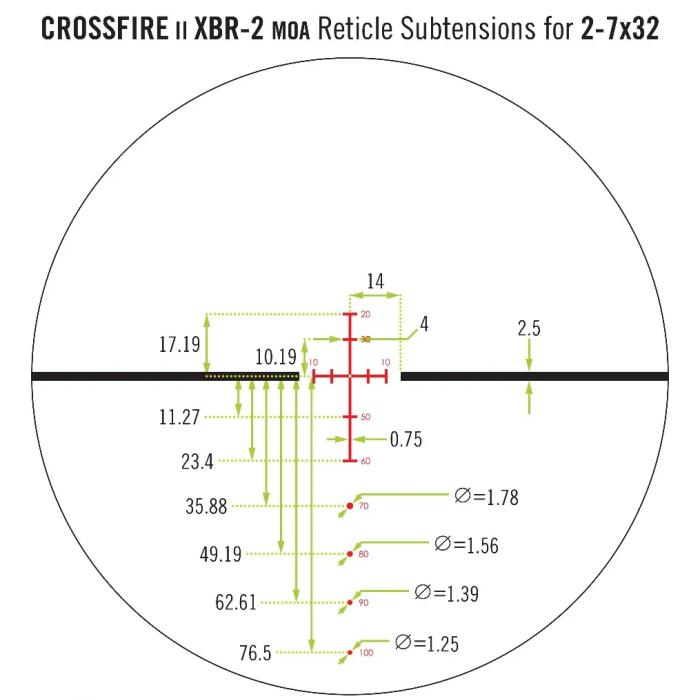 Accessories included
Flip-up lens covers
Lens cleaning cloth
CR2032 battery
2 30mm rings with weaver base
T-15 Torx key
Neoprene cover

Vortex VIP Warranty - Unconditional Lifetime Warranty
Vortex offers on this product its special unlimited and unconditional guarantee: no matter what the cause of the damage was, the product will be repaired or replaced at no cost apart from any shipping or transport costs.
No comments entered for: